This is an archived article and the information in the article may be outdated. Please look at the time stamp on the story to see when it was last updated.
SAN DIEGO – A hike up a hill on Camp Pendleton this weekend showed the true strength and determination that comes from being part of the military.
Hundreds of active and veteran military service members and their families climbed First Sergeant's Hill above the 5th Marines headquarters at Camp Pendleton Friday. The 3rd Battalion, 5th Marine Regiment came together for their 5-year reunion from their 2010-2011 Sangin, Afghanistan deployment.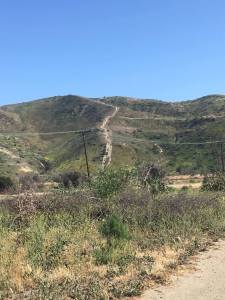 FJ Picazo of Vista captured powerful video of the hike and a proud moment of Josue Barron, who lost his leg and an eye in 2010 to an explosion. Barron was seen climbing his way up a portion of the hill on his hands and one leg.
"From what I was told, hallway up [Barron's] prosthetic gave out and he chose to keep pushing on without it," Picazo said.  "It shows pride, self determination, the love and brotherhood we have for each other."
The 3rd Battalion, 5th Marine Regiment suffered major loss during their time in Afghanistan.
Picazo said the 350 people – active, veteran and Gold Star family members – attended a two day event put on by Kathy Sim and Julie Vinnedge.
[UPDATE] Barron spoke to FOX 5 about the climb.  Hear what he had to say: