This is an archived article and the information in the article may be outdated. Please look at the time stamp on the story to see when it was last updated.
SAN DIEGO — A San Diego police officer who was shot multiple times Thursday while chasing a wanted felon, is expected to make a complete recovery, police Chief William Lansdowne said.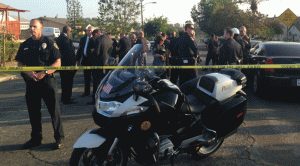 The patrolman was conscious and alert when he was admitted to Scripps Mercy Hospital for bullet wounds that were not believed to be life-threatening, Lansdowne said outside the Hillcrest trauma center Thursday evening.
"I can tell you that he is very confident," Lansdowne told reporters. "He is lucid and talking, and the doctor is confident that he'll have a full recovery."
Police identified the wounded patrolman as Officer Tim Bell of the SDPD Mid-City division. Bell's close relatives, including his wife and mother, were with him at the hospital as doctors prepared him for surgery, Lansdowne said.
The gunfire erupted about 3:30 p.m. in a culvert off the 2800 block of 39th Street in City Heights following a vehicle and foot chase, according to San Diego police.
The officer was struck in the chest, an arm and a leg and was in stable condition, said San Diego police Lt. Jorge Duran, who explained that fellow officers carried the wounded officer from the scene before he was taken to the hospital.
About 15 minutes after the shooting, officers took the suspected gunman into custody in the 2100 block of Haller Street, on the opposite side of state Route 15 and Interstate 805 from the site of the gunfire. The suspect, whose name was not immediately available, had crawled through a drainage channel in an attempt to escape, police said.
A loaded handgun was recovered from the yard of a nearby residence on Haller Street, Duran said.
The California Highway Patrol closed both freeways in the area shortly after the shooting, causing traffic to backup for miles. Most of the affected lanes were reopened by early evening, according to the CHP.
Interim San Diego Mayor Todd Gloria said he planned to visit with the officer and his family at the hospital this evening.
It was unclear why officers initially tried to pull over the suspect around 2:15 p.m., though he was named in a felony arrest warrant, SDPD Detective Gary Hassen said.