This is an archived article and the information in the article may be outdated. Please look at the time stamp on the story to see when it was last updated.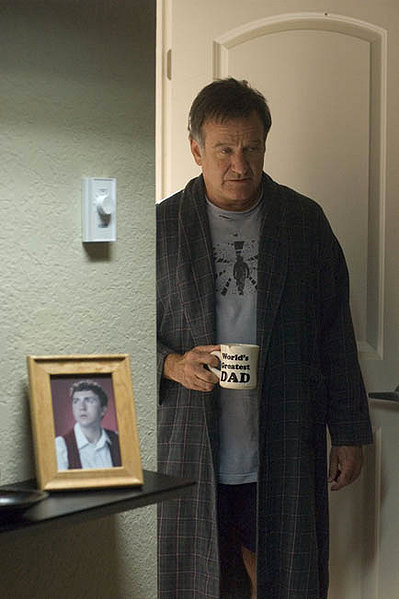 Let me start by saying I'm a fan of Bobcat Goldthwait. I remember in the early '80s seeing him do stand-up comedy and being impressed by his material. The voices/screams he made were annoying, but his jokes were strong.
I was one of the few critics that liked Shakes the Clown. And even after he came into the radio station I worked at and was mean when I tried to interview him – I can still say he's funny. He killed it that night at the club, and the clown movie was good. I don't care what anybody says.
Unfortunately, his movie Sleeping Dogs Lie never opened in San Diego. If you thought alcoholic clowns were bad, this movie involved a sexual act with a woman and her dog. I never saw it, and just see too many movies to spend time renting a movie I missed unless lots of people tell me it's great.
So with his third movie, do you think Bobcat upped the gross out factor? Well, he tries. Here's the story (and no spoiler alert is needed in my review, but probably in others so be careful what you read).
Lance Clayton (Robin Williams, who played a mime in Shakes) is a boring high school poetry teacher who yearns to be published. His son Kyle (Daryl Sabara of Spy Kids) is perhaps the worst teenager imaginable. He curses, he's mean, and isn't shy about the amount of porn he watches on the computer. He also tries to take pictures of dads girlfriend under the table.
Through a bizarre series of events, Williams is able to get a diary of Kyle's published. It speaks to people — the anger, the teen angst, the pain and loneliness of growing up. You'll have to see the movie for yourself to experience just how angry Kyle's friends get by this, and I'll let you guess if Kyle will be furious by this betrayal of trust.
Now, what complicates matters is that Williams realizes his son isn't the best writer, and he uses his poetry chops to liven things up. Probably not the best idea in the world when you'll be facing kids in the halls of school.
We watch as Lance gets his 15 minutes of fame, and enjoys all the attention. I'm guessing Bobcat, with his history as director on the Jimmy Kimmel Show, his days of stand-up and film career (he was in Police Academy, remember)…he's probably met a lot of people like this. Yet as good as Bobcats material has always been, I'm guessing he would've been able to create funny fictional characters even had he not met people with these personality traits.
I would've preferred he didn't make the teen so unlikable, and I found the dad a little to accepting of some of this boorish behavior as well.
There were also moments I didn't buy with Lance's girlfriend and a few other little things. When you're going the dark comedy route, I really want to believe everything that's happening.
Another small scene that could've been written sharper involves an embarrassed and angry Lance walking off the school grounds. I think the people around him would've been a bit more sympathetic to the whole situation. When he jumps into a swimming pool, I thought of the powerful scene Bruce Dern has running into the beach at the end of Coming Home.
I think dark comedy is a fun way to go with high school comedies, and I liked this movie a lot more than Heathers. Yet it wasn't as good as Election; but just the fact that I wrote that means…I'm comparing Bobcat Goldthwait to Alexander Payne. It's strange to think the guy holding the shot gun to Bill Murray's neck in Scrooged is now directing some fun and thought-provoking films.
This gets a B.