This is an archived article and the information in the article may be outdated. Please look at the time stamp on the story to see when it was last updated.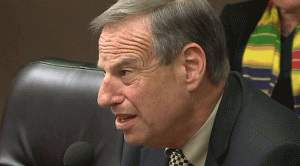 SAN DIEGO — A group of women military veterans announced Wednesday that it has withdrawn an invitation to Mayor Bob Filner to speak at its conference in San Diego next month in light of the sexual harassment allegations against the former congressman.
Filner, the leading Democrat on the House Veterans Committee when he was in Congress, was originally slated to be the keynote speaker at the National Womens Veterans Association of America's benefit gala Aug. 30 at the U.S. Grant hotel. He was also set to receive a lifetime achievement award from the organization.
NWVAA President Tara Jones said Filner is still invited to attend, but will no longer be allowed to speak.
"After much careful thought and consideration, my board and I have determined and decided that Mayor Bob Filner will be removed as guest speaker on the topic of military sexual assault, sexual harassment and violence against women and children," Jones told reporters.
The award has also been withdrawn, she said.
The decision was announced two days after Filner's former communications director became the first woman to publicly describe Filner's alleged actions toward her. Since then, two other local woman have come forward with allegations that Filner sexually harassed them.
RELATED STORIES:
School employee says Filner tried to kiss her
2nd woman accuses Filner of harassment
Ex-aide sues Filner for sexual harassment