This is an archived article and the information in the article may be outdated. Please look at the time stamp on the story to see when it was last updated.
SAN DIEGO — A preliminary hearing began Monday for a woman who allegedly pointed a realistic-looking pellet gun at San Diego police officers on the roof of a downtown parking structure, prompting a patrolman to fire two shots at her as runners from the Rock-N-Roll marathon went by on the street below.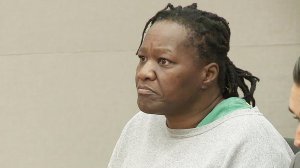 Mona Elease Williams, 58, faces felony charges of resisting an executive officer and misdemeanor hit-and-run.
Deputy District Attorney Michael Runyon said Williams was spotted in her car near the entrance to the parking structure the morning of June 3 by an officer who thought he saw a gun pointed at him.
Williams proceeded to the top of the parking structure and allegedly pointed her gun at an officer, who fired two shots at her but missed, the prosecutor said. Williams then threw the pellet gun over the side of the structure and was arrested.
Another officer accidentally shot himself in the leg during the incident.
At Monday's hearing, body camera footage released by police showed Williams being taken into custody. She appeared erratic and emotional. Williams told police she did not want to hurt anyone and just wanted to get away from the crowd.
"She told me she wanted to kill herself — she wanted to harm herself in some way," testified SDPD Officer Ronald Hamilton.
Williams' defense attorney argued that she is suffering from mental illness. She has battled drug addiction and has had bouts of homelessness, the attorney said.
Runyon said Williams has a criminal history dating back to 1979, when she was arrested for attempted murder and pleaded guilty to assault with a deadly weapon. She faces 65 years to life in prison if convicted in the current case.
Court adjourned for the day at the lunch break. The hearing will continue on Tuesday.
After the preliminary hearing, a judge will decide if enough evidence was presented for Williams to stand trial.