This is an archived article and the information in the article may be outdated. Please look at the time stamp on the story to see when it was last updated.
SAN DIEGO — Police are investigating the disappearance of a 79-year-old Serra Mesa woman who vanished mysteriously from her home several days ago.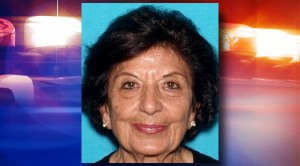 Mehria Mansury was last seen Tuesday walking in front of her home in the 2800 block of Amulet Street. Neighbors said she had been having problems with a daughter who lived with her boyfriend in Mansury's garage.
"She's a real sweet lady. There' nothing wrong with her mentally at all," one neighbor told Fox 5. "And this whole situation has not been good with the daughter.  If that has anything to do with her missing or not, I don't know, but it's just highly suspicious."
Police searched Mansury's  home and garage until late Thursday night. Investigators said the woman left behind her purse, keys and cell phone. They collected some evidence from the property but are not saying what they took.
Mansury is 5 feet, 1 inch tall, weighs 140 pounds, with brown hair and eyes.
Detectives are asking anyone with any information on the woman's whereabouts to call the Adult Missing Persons section of the police department at
619-531-2293 or Crime Stoppers at 888-580-8477.