This is an archived article and the information in the article may be outdated. Please look at the time stamp on the story to see when it was last updated.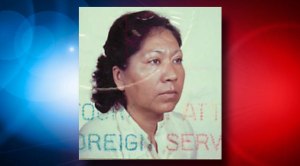 SAN DIEGO — Authorities asked the public Tuesday for help in locating a woman who disappeared after an infant suffered suspicious fatal injuries while she was baby-sitting the year-old boy at her Shelltown home 20 years ago.
Maria Elvia Larios, 67, is wanted on suspicion of murder in connection with the death of Jose Shaw, who succumbed to trauma consistent with having been violently shaken, according to San Diego police.
On March 2, 1993, Larios made an emergency call to report that the baby had been injured at her residence in the 1800 block of South 39th Street, purportedly from falling off a bed.
Medics took the child to a hospital, where physicians determined that he had suffered injuries consistent with shaken-baby syndrome. Larios denied wrongdoing and agreed to cooperate with investigators looking into the fatality, but soon fled to Mexico.
Three days after Larios vanished, the child died.
Prior to the day when the child was mortally injured, his parents had noticed minor scratches and bruises on his body, but Larios was able to convincingly explained them away, according to police.
Anyone with information on the whereabouts of Larios, who also has been known to use the last names Mendoza and Parra, was asked to call San Diego County Crime Stoppers a 888-580-8477. Tipsters may remain anonymous and could be eligible for a reward of up to $1,000.