This is an archived article and the information in the article may be outdated. Please look at the time stamp on the story to see when it was last updated.
SAN DIEGO – One of two women who were swept into the ocean by a large wave in Ocean Beach over the weekend has died, according to officials.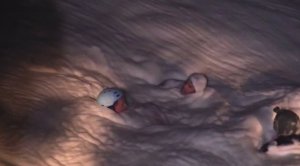 Lifeguards responded to the end of Bacon Street at 5:30 p.m. Saturday, after a good Samaritan had already rescued one of the women, according to San Diego Fire-Rescue Department Capt. Joe Amador.
Residents asked to report storm damage to county
It took at least four lifeguards about 40 minutes to rescue the second woman, who was unconscious by the time she was pulled from the water, Amador said.
Lifeguards had difficulty finding her, since the ocean was covered in two feet of sea foam, making it hard for them to breathe.
LIVE RADAR: Track the winter storm
The second victim was transported to the UCSD Medical Center where she died Saturday night, Amador said.
The first victim, the good Samaritan and two lifeguards were taken to the hospital, but are expected to recover.