This is an archived article and the information in the article may be outdated. Please look at the time stamp on the story to see when it was last updated.
EL CAJON, Calif. — A La Mesa woman testified Thursday that a man she met on a Christian dating website last year raped her during their first face-to-face meeting at her apartment.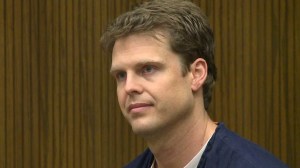 The woman — identified as "K.K.," was the first witness in a preliminary hearing for 37-year-old Sean Patrick Banks.
The defendant — a Del Mar resident — also is charged with raping a second woman who came forward after seeing news accounts of Banks' involvement with "K.K."
"K.K." testified that she first communicated with Banks — who went by the handle "Rarity" — on Christianmingle.com last October. The woman said she responded favorably to a note in his profile that said he was a "happy person" and "liked to give free hugs every day."
"K.K." said she and Banks — who said his name was "Rylan" — texted almost every day until deciding to meet Nov. 21, the day before Thanksgiving.
The woman told prosecutor David Williams III that she felt safe around Banks "because all we talked about was God."
She said Banks came over around 9 p.m., bringing rum and Coke.
Within a minute of sitting on the couch to watch a movie, Banks started kissing "K.K." and touching her breast, she testified.
She said she told Banks to stop, which he did.
A few minutes later, Banks put his hand down the front of the woman's pants and she again told him to stop, which he did, "K.K." testified.
The woman — who's in her 20s — said Banks grabbed her arm and pulled her toward the bedroom.
"He said, `We don't have to do anything you don't want to do,"' the woman testified, saying she was scared that the defendant would hurt or kill her.
Once in the bedroom, the woman said Banks pushed her onto the bed and when she tried to scoot off the opposite side, he put his forearm across her chest.
"K.K" testified that she told Banks that she didn't want to have sex but he took her pants off and sexually assaulted her anyway.
The witness said she told Banks, "Let's not do this" and screamed "Please" when he persisted, and he finally got up, got dressed and left.
"K.K." testified that minutes after Banks left her apartment, he texted her, acting as if nothing happened.
"I told you no and you kept pushing. That's not respectful," the woman said she texted Banks.
When Banks said he didn't know what she was talking about, the woman texted back, "I'm gonna make this a big deal. Wait and see," she testified.
Banks was arrested Feb. 11 and charged with rape by a foreign object, residential burglary and forcible rape.
It took detectives several months to identify Banks as the suspected assailant because "K.K." did not know his real name, according to police.
Authorities said a second alleged victim came forward after seeing news reports of the incident involving "K.K.," telling police that Banks raped her on their third date in 2009 after she had been drinking.
The defendant was charged March 1 with rape of an intoxicated person and attempting to dissuade a witness from prosecuting a crime. He faces 44 years to life in prison if convicted of all charges, Williams said.
At the conclusion of the preliminary hearing — which is expected to wrap up tomorrow — El Cajon Superior Court Judge Herbert Exarhos will decide if enough evidence was presented for Banks to stand trial.