This is an archived article and the information in the article may be outdated. Please look at the time stamp on the story to see when it was last updated.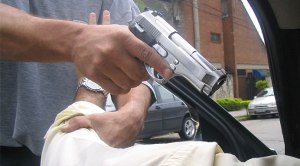 SAN DIEGO — San Diego police were on the lookout Monday for a man who tried to take a woman's car at gunpoint in a parking lot at Fashion Valley Mall.
The attempted carjacking outside the JC Penney department store at 6987 Friars Road was reported at 9:43 p.m. Sunday, according to San Diego police Officer Dino Delimitros.
The victim, who works at the mall, told investigators she was getting into her car and about to leave when the gunman approached on foot and tried to get her out of the vehicle, he said in a statement.
She refused and the gunman fled southbound. He was described as a black man wearing a gray hoodie with a blue stripe on it and dark baseball shorts, Delimitros said, adding that the gunman was accompanied by a tall white man wearing "athletic" clothing.