This is an archived article and the information in the article may be outdated. Please look at the time stamp on the story to see when it was last updated.
OCEANSIDE, Calif. -- Authorities were on the lookout Monday for a hit-and- run driver whose allegedly speeding car struck and killed a 63-year-old woman on a North County street.
The silver 1998 Honda Civic, California license No. 7HJW553, was traveling to the west at upward of 80 mph when it struck the pedestrian in the 1400 block of Mission Avenue in Oceanside about 8 p.m. Sunday, according to police.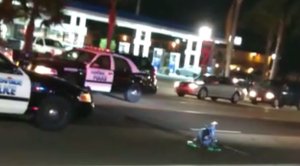 Following the crash, the motorist, described as a bearded man in a baseball cap, continued driving and left the area, Lt. Ignacio Lopez said.
The victim died at the scene. Her name has been withheld pending family notification.
A witness followed the fleeing driver's car onto northbound Interstate 5 and to the east on state Route 76 but lost sight of it near Loretta Street in the Lawrence Canyon area, Lopez said.
According to police, the car hit the woman so hard that the front bumper fell off. Officers went to the house of the registered owner of the car, but he was not there.
Anyone with information about the case was asked to call Oceanside police at 760-435-4900.
Oceanside police are looking for the driver of a silver 1998 Honda Civic, California license No. 7HJW553. Here's why https://t.co/hKYSbRq2Sn pic.twitter.com/9M4RHT9WVX

— FOX 5 San Diego (@fox5sandiego) April 17, 2017