This is an archived article and the information in the article may be outdated. Please look at the time stamp on the story to see when it was last updated.
WASHINGTON — Arianne Zucker, the woman who was unknowingly one of the targets of Donald Trump and Billy Bush's now infamous hot mic conversation, responded to the controversy via Twitter on Sunday, calling for "kindness, dignity and respect."
"My name is Arianne (R-E-on) ZUCKER (Zooker) and I am a strong, independent, hard working mother, business woman and partner to a great man. I have grown to learn that the words of others cannot effect the value of my self worth or define the content of my character," Zucker wrote.
"My name is Arianne (R-E-on) ZUCKER (Zooker) and I am a strong, independent, hard working (cont) https://t.co/jOE344FCSf

— Arianne Zucker (@Ari_Zucker) October 9, 2016
Trump was talking with Bush on a bus outside of the soap opera "Days of Our Lives," and the pair noticed Zucker, who was waiting to escort them onto the set.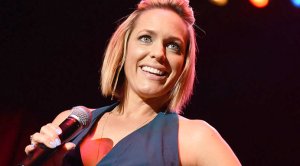 "I've got to use some Tic Tacs, just in case I start kissing her," Trump said.
The Republican nominee later called the comments "locker room banter" in a statement before issuing a video apology.
Zucker offered an implicit rebuke of Trump's response to the tape, saying, "How we treat one another, whether behind closed doors, locker rooms or face to face, should be done with kindness, dignity and respect."
Trump's comments, particularly his boastful language about sexual assault, has thrown his party and the entire political race into chaos, and ignited a conversation about sexism and violence.
Seizing on this theme, Zucker closed her statement: "Unfortunately, there are too many people in power who abuse their position and disregard these simple principles and are rewarded for it. In understanding the magnitude of this situation, I choose to stand tall with self respect and use my voice to enrich, inspire and elevate the best of who we are as people."
Billy Bush Fallout
Billy Bush will not appear on the "Today" show on Monday, a network spokeswoman said Sunday night.
The sudden reversal came amid a chorus of calls for disciplinary action against Bush over his vulgar 2005 conversation with Donald Trump that was caught on tape.
Until Sunday afternoon, NBC sources said Bush would be in his usual co-host chair on Monday morning. The sources said Bush would reiterate the apology he made Friday shortly after the videotape was revealed.
The conversation between Bush and Trump has rocked the presidential race, caused some Republican leaders to retract their endorsements of Trump, and raised questions about his fitness for office.