This is an archived article and the information in the article may be outdated. Please look at the time stamp on the story to see when it was last updated.
WHITTIER, Calif. – A new mother had a something extra special to celebrate this Memorial Day weekend.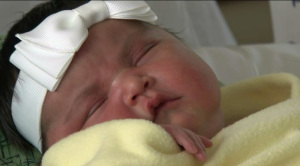 Yvette Camberos Hernandez of Bell Gardens gave birth to a healthy 13-pound, 10-ounce girl at Whittier Hospital Medical Center.
The newborn, named Kaelyn Hernandez, was delivered Friday through a C-section, earning a page in the hospital's record books.
Wrapped in a yellow blanket, with a big white bow covering her hair, little Kaelyn rested comfortably in her mother's arms as news crews snapped pictures and recorded video of the sleepy infant.
The newborn was nearly twice the size of the average baby, even though she was born a week early.
Yvette was expected to take her daughter home Sunday and introduce the baby to her two older siblings.