This is an archived article and the information in the article may be outdated. Please look at the time stamp on the story to see when it was last updated.
SAN DIEGO – A 25-year-old Chicago woman posing for a picture, slipped and fell to her death at Sunset Cliffs Sunday, police and fire officials said.
Someone called for help about 5:20 p.m. from the cliffs between Ladera and Carmelo streets, according to the San Diego Fire-Rescue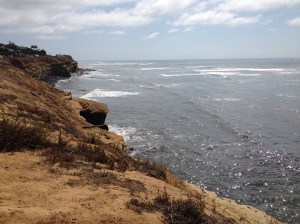 Department.
Fire crews recovered the young woman's body, with the assistance of lifeguards, a city lifeguard lieutenant said.  The victim was visiting family in San Diego and was with her sister when she fell, the lieutenant said.
Authorities initially reported that a second person was injured on the cliffs, but that was proved to the a false report.
The woman's name was not immediately released.