This is an archived article and the information in the article may be outdated. Please look at the time stamp on the story to see when it was last updated.
VISTA, Calif. – A woman accused of fatally shooting her son-in-law in the house they shared in a gated Fallbrook community is mentally competent to stand trial on a murder charge, a judge ruled Wednesday.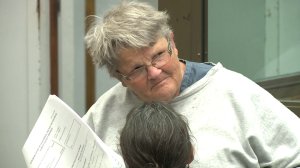 After reviewing doctors' reports, Judge Runston Maino found that Cynthia Katherine Cdebaca, 63, understands the charges against her and can assist her attorney at trial.
The judge reinstated criminal proceedings and scheduled a preliminary hearing for Sept. 16 in Vista.
Around 8 a.m. on Feb. 11, Cdebaca and 53-year-old Geoward Flores Eustaquio were the only people in the home when he made a comment to her about what she was wearing, according to Deputy District Attorney Tracy Prior.
In response to the comment, the defendant went to her "granny flat" adjacent to the home and retrieved a .38-caliber, five-shot revolver that she had purchased about two weeks earlier, according to Prior.
Cdebaca came down the stairs and fired all five rounds at Eustaquio as he stood in a patio area between the house and the granny flat, the prosecutor alleged.
When Cdebaca realized that her son-in-law was not dead, she walked to her car in the driveway — where she had a box of ammunition — and reloaded the gun before firing five more shots, Prior alleged.
Recognizing that Eustaquio was still alive and was trying to crawl into the home and lock the door, Cdebaca returned to her car to reload the gun and allegedly fired five more times at him, according to the prosecutor.
An autopsy revealed seven .38-caliber bullets in the victim's body, as well as four other holes where bullets had entered and exited, Prior said.
"She (the defendant) then left the residence, tossed the gun in a nearby drainage ditch and threw the ammunition away," Prior alleged at Cdebaca's arraignment. "She then went to Denny's for breakfast, she went to Pechanga (Casino) for gambling, she went to the liquor store for cigarettes and she went to her favorite coffee shop to end her day."
Around 5 p.m. that day, officers caught up with Cdebaca, who originally denied knowing that Eustaquio was dead and denied any involvement, Prior said. Later that night, however, Cdebaca told police she was responsible, stating that the victim "better be dead," the prosecutor alleged.