This is an archived article and the information in the article may be outdated. Please look at the time stamp on the story to see when it was last updated.
SAN DIEGO – A video showing a woman in costume take more than her share of Halloween candy has the resident fuming.
On Halloween night, Nathan Brown and his roommates made an impromptu "social experiment" at their house in Serra Mesa.  They set up a table with three boxes of full-size candy bars for trick-or-treaters to come and take. They also wrote a note to the trick-or-treaters, "Help yourself, but please be considerate."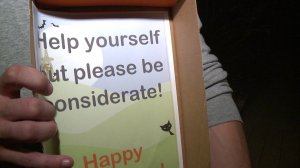 "We thought we`ll leave some candy out…of course people are going to help themselves to a lot, but it'll be fun to see who takes what," Brown said.
Brown and his roommates left home for about an hour.  They returned to empty boxes. So, they checked the security video to see which kids took the most.
"We saw each kid behaving, taking a few…that was cool…that was fine," Brown said. Everything was "fine" until they spotted a woman in the rabbit ears, he said.
Video showed a costumed woman walk up with a child. She hung around until other kids left and then started to clean out the boxes.
"You'd think people would appreciate that by saying 'maybe we should save some for the kids,'" Brown said. "One bad apple has to ruin it for everyone."
"We were angry. That`s why we put the video online. We didn`t get to catch her in the act," he said.
Brown said the video showed the woman and child take off with about 50 candy bars.
"The fact she told him to take more bums me out about the whole situation," Brown said. "It's a bad example for the kids."