This is an archived article and the information in the article may be outdated. Please look at the time stamp on the story to see when it was last updated.
http://youtu.be/S-iOeLGSNvQ
SAN DIEGO — A 33-year-old woman involved in an alleged road rage crash recorded by a passing motorist has been arrested on suspicion of reckless driving and assault with a deadly weapon .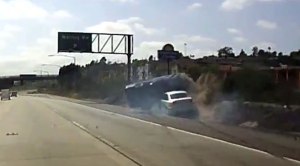 Stephanie Pontarolo was arrested by state parole agents three days after the crash on westbound Interstate 8 near Waring Road. Pontarolo, a convicted felon, faces a variety of drug and weapons charges in addition to the charges related to the crash, according to jail records.
Pontarolo and Kelsey Shakespeare, 21, got into some kind of freeway "altercation" on May 10, according to the California Highway Patrol. Pontarolo may have made an obscene gesture at the younger woman, authorities said.
Video recorded on a dash camera by a passing motorist shows that Pontarolo drove her green Toyota Tacoma pickup alongside Shakespeare's car and the swerved into it, causing both vehicles to crash on the right shoulder of the freeway. The Tacoma rolled in the crash. Both drivers suffered minor injuries.
At first, the CHP classified the crash as an accident, but additional investigation led to charges being filed against Pontarolo.