This is an archived article and the information in the article may be outdated. Please look at the time stamp on the story to see when it was last updated.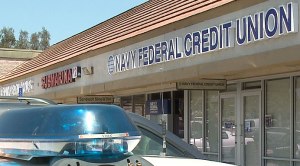 SAN DIEGO — A woman suspected of robbing a Tierrasanta credit union Wednesday led officers on a road chase on Interstate 15 and into City Heights before stopping and being taken into custody, authorities reported.
The holdup at the Navy Federal Credit Union office in the 10600 block of Tierrasanta Boulevard was reported shortly before 12:30 p.m., according to San Diego police.
The bandit, who claimed to have a concealed gun, fled with an undisclosed amount of cash in a gray Audi with tinted windows.
A short time later, an officer spotted the vehicle on I-15 and tried to pull it over, SDPD Officer Ed Zwibel said. The driver refused to yield and continued to the south on the freeway before exiting onto El Cajon Boulevard and heading east.
After the chase entered the El Cerrito neighborhood, west of Rolando, a pursuing officer got into a collision on Corinth Street, leaving him and the other driver with minor injuries.
About a block to the north, the fleeing woman stopped and was taken into custody about 12:50 p.m., Zwibel said. Her name was not immediately available.