This is an archived article and the information in the article may be outdated. Please look at the time stamp on the story to see when it was last updated.
SAN DIEGO – Witnesses played a major role in a bank robbery investigation at a University City-area Wells Fargo Tuesday, according to police.
Investigators said around 5 p.m., a man and woman entered the bank on Genesee Avenue and Nobel Drive and presented a demand note. At some point, a bank security guard captured the woman and fired at least one shot, striking the man.
Capt. Brian Ahearn of San Diego Police Department Northern Division didn't provide details about the shooting, but said the man initially escaped. Ahearn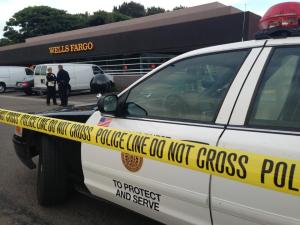 said witness John Ellis played a key role in identifying the getaway car.
Ellis was driving when he saw a "suspicious" man running along Genesee Avenue.
"Heavyset guy with boots on, going for a jog," said Ellis. "Didn't look right. Thought maybe he was trying to catch a bus. And then he was wearing latex gloves and realized there was probably something going on, at which point I reached for my phone and called the 911 operator."
Ellis said the man was also bleeding.
"Under his right eye," said Ellis. "So there was blood streaming down his face."
A trail of blood could be seen along the sidewalk outside the bank. Police said they were using that evidence, along with a hat that was left behind.
Later Tuesday evening, the injured suspect was dropped off at Sharp Memorial Hospital, but police said they're still looking for the getaway driver. Ahearn said he is believed to be driving a light teal Honda with a paper license plate reading "VTEC."
Investigators are sorting through witness statements to determine exactly how it all happened.
"It's time for the detectives who are investigating the case to ask some more pointed questions and get the exact timelines and exact information from each person's perspective on what they saw and heard," said Ahearn.
Wells Fargo officials praised employees for their actions.
"They did an incredible job," said Ernesto Arredondo, President for San Diego Wells Fargo. "They followed our policies and procedures. Don't want to go too much into what they're supposed to do but they did exactly everything textbook. Our customers are safe. Our team members are safe."
Police said the female bank robber was also wounded, though they didn't release details on her injuries or how they happened. She was taken to a local hospital.
Investigators haven't said if the second suspect got away with any money.