This is an archived article and the information in the article may be outdated. Please look at the time stamp on the story to see when it was last updated.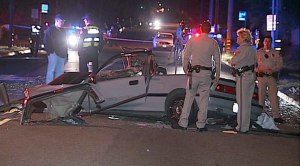 OCEANSIDE, Calif. — Oceanside police said they are investigating allegations that several officers laughed and taunted a driver as he was pinned in a wrecked car next to his dead friend.
The fatal crash happened early Friday after a high-speed chase that began on Highway 78 near College Boulevard when California Highway Patrol officers spotted a 1991 Honda Civic racing a dark sedan. The sedan slowed down, but the Honda sped off on northbound Interstate 5 with the CHP in pursuit, according to CHP Officer Jim Bettencourt.
The Honda exited the freeway onto Mission Avenue and eventually crashed into a parked pickup on Mesa Drive, Bettencourt said. The driver, 21-year-old Jorge Luis Lopez, survived the crash, but his passenger was killed, according to a CHP statement.
A woman who was at the accident scene said the several Oceanside police officers treated the distraught driver inappropriately.
"As the young man was sitting in his car pinned, there were three police officer that had been standing around and you could hear the young man screaming, 'Kill me too?'" the woman said.
"They went up to the young man and told him that he had just killed his best friend, that — he was dead — and they were smirking at him. There were three Oceanside policemen, and he just started screaming, 'What are you laughing at? What are you laughing at?' The cops were laughing — the three policemen — and he just lost it."
Lopez was flown to Scripps La Jolla Hospital for treatment of moderate injuries, Bettencourt said. Alcohol as a factor in the crash and Lopez would likely be charged with several felonies including drunken driving and vehicular manslaughter when he is released from the hospital, Bettencourt said.