This is an archived article and the information in the article may be outdated. Please look at the time stamp on the story to see when it was last updated.
SAN DIEGO — A band of light to moderate rain swept across coastal and valley areas of San Diego County and a dusting of snow in the East County mountains early Monday , bringing San Diego the first measurable precipitation of the year.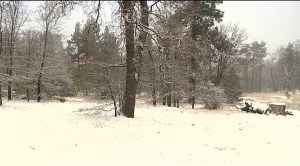 The National Weather Service issued a winter weather advisory for the mountain areas above 4,500 feet until noon, saying two to four inches of snow accumulation was likely this morning.
A winter weather advisory means that periods of snow will make travel difficult. Among the areas included in the advisory were Cuyamaca, Mount Laguna and Ranchita.
"Residents and travelers into the mountains should be prepared for hazardous driving conditions due to slick roads," an NWS advisory said. "If possible, carry chains and take extra food and clothing."
As of 8 a.m., just over an inch of snow had accumulated at the 6,000-foot level on Mt. Laguna, one of the highest areas in the county. Snow plows had cleared the Sunrise Highway, but the roadway remained wet.
Mountain areas this morning were also subject to sustained southwest winds of 15 to 25 miles per hour and gusts up to 40 mph.
The mild storm brought less than half an inch of rain to coastal area, Fox 5 weathercaster Chrissy Russo said. It was the first measurable rain of the year for the parched county.