This is an archived article and the information in the article may be outdated. Please look at the time stamp on the story to see when it was last updated.
SAN DIEGO — A cold winter storm bringing heavy snow and high winds to Southern California mountains is expected to hit San Diego County Tuesday evening, forecasters said.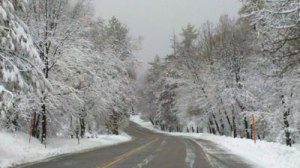 A winter storm warning remains in effect through noon Wednesday for Interstate 8 from Alpine into Imperial County, according to the National Weather Service. Travelers should be prepared for hazardous driving conditions include high winds and near-zero visibility. They should carry snow chains, food and warm clothing, according to the NWS.
Severe winter weather is also forecast for mountain communities, including Boulevard, Campo, Descanso, Julian, Lake Henshaw, Morena Village, Mount Laguna, Pine Hills, Pine Valley, Ranchita, Santa Ysabel and Warner Springs.
The storm could dump 4 to 8 inches of snow above 3,500 feet and up to 14 inches above 4,500 feet, forecasters predicted. The snow level could drop below 2,000 feet by Wednesday morning, they added.
The brunt of the storm is expected to hit the count by mid-evening, with winds reaching gusts of 65 mph in some mountain passes. The wind chill may drop to -15 degrees late Tuesday night. Snowfall will gradually taper off overnight and on Wednesday, forecasters said.
A lesser winter weather advisory was issued for valley areas above 2,000 feet, including Alpine, Potrero and Santa Ysabel, that could get up to two inches of snow along with wind, thunderstorms and heavier showers.
"A winter weather advisory means that periods of snow will cause travel difficulties," the advisory said. "Be prepared for slippery roads and limited visibilities, and use caution while driving."
Rain and isolated thunderstorms with small hail are also expected elsewhere in the county Tuesday through early Wednesday. The cold front could also bring strong wind to the deserts and high surf along the coast.
Rainfall totals are expected to range from about half an inch along the coast to more than 2 inches in foothills and valleys below 2,000 feet.