This is an archived article and the information in the article may be outdated. Please look at the time stamp on the story to see when it was last updated.
SAN DIEGO – Winter storm "Hercules" pounded the Northeast and Midwest, leaving a travel nightmare at snow-covered airports and causing a trickle effect of delays and cancellations across the country.
As o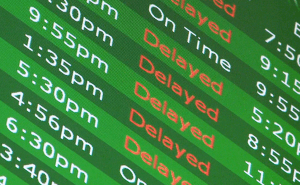 f Thursday evening, at least 19 flights were cancelled at Lindbergh Field and dozens had been delayed throughout the day.
A variety of destinations were impacted including Chicago, New York, Newark and Minneapolis, as well as west coast cities like Sacramento, San Francisco and Phoenix.
The Brehm family arrived at Lindbergh Field late Thursday afternoon, in surprisingly good spirits considering their travel day.
"We sat in the terminal for an hour and then we sat on the plane for 3 hours while they waited to go through de-icing," said Jeffrey Brehm, San Diego resident. "It took an hour to de-ice the plane."
San Diego visitor Barbara Young described the conditions in the Las Vegas airport.
"Lines were long and it was a little hectic, a little crowded," said Young. "Most of the flights were a little bit late, half hour to an hour."
Airport officials warn travel can be impacted no matter what the weather is like at your destination. This is because you never know where your plane will be originating.
Rosalie Diaz waited all day for her son to catch his flight to Colorado Springs for the Air Force Academy.
"His flight was supposed to leave at noon and it's delayed seven hours so far," she told Fox 5 Thursday afternoon.
Travelers recommend staying positive despite the delays.
"Be polite," said Young. "It's no ones fault. It's the weather. No one can help it. Don't get mad at anybody, because it doesn't do any good to be rude. Actually you'll do much better, and perhaps get that earlier flight, if you're a little bit nicer."
Airport officials recommend contacting your airline before heading to the airport. You can also check on delays and cancellations via the San Diego International Airport website.