This is an archived article and the information in the article may be outdated. Please look at the time stamp on the story to see when it was last updated.
SAN DIEGO – Two window washers who were trapped outside a building downtown were safely on the ground after firefighters rescued them Monday afternoon, authorities said.
The rescues took just over an hour and required several San Diego Fire-Rescue Department crews.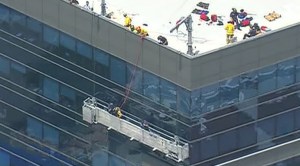 Emergency workers responded around 1:30 p.m. Monday to the Advanced Equity Plaza building at 655 West Broadway.
Sign up for Breaking News Alerts
due to a malfunction on their mechanized work platform, a fire
department spokesman says.
A malfunction on their mechanized work platform caused the workers to get trapped, SDFD spokesman said.
To reach the window washers, a member of the rescue team was lowered from the top of the building to their basket.  Both workers were placed in harnesses and lowered one at a time to a landing below, SkyFox video showed.
Officials were reviewing the incident.
The window washers were reportedly uninjured.