This is an archived article and the information in the article may be outdated. Please look at the time stamp on the story to see when it was last updated.
SAN DIEGO -- A television special about actor Will Ferrell's one-day tour of baseball spring training sites, in which he played 10 positions for 10 teams, will be screened at Petco Park Saturday night, according to HBO and Major League Baseball.
Fans at the Padres game against the Dodgers, with first pitch set for 5:40 p.m., will be able to stay and watch the ballpark premiere of HBO's "Ferrell Takes the Field.''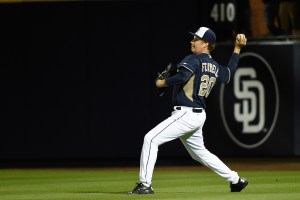 On March 12, Ferrell visited five stadiums in Arizona where exhibition games were taking place and suited up for each team.
He played first base for the Cubs, second base for the Mariners, shortstop for the A's, third base for the Reds, left field for the Diamondbacks, center field for the Angels, right field for the Padres, catcher for the Giants, pitcher for the Dodgers and designated hitter for the White Sox.
His exploits were part of a cancer fundraiser.
Ferrell is scheduled to appear at Petco Park to introduce the show, for which he served as executive producer.