This is an archived article and the information in the article may be outdated. Please look at the time stamp on the story to see when it was last updated.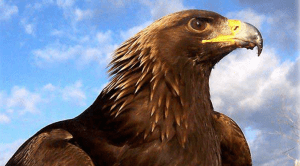 SAN DIEGO — A wildlife researcher from Julian was fined $7,500 Wednesday and ordered to serve three years probation for mishandling a golden eagle as part of his occupation of tracking wild birds.
John David Bittner, 68, pleaded guilty in federal court in San Diego to unlawful "taking" of the eagle in his capacity of gathering data on the movement of birds for developers, utilities and other clients.
While handing down the sentence, Magistrate Judge David Bartick observed that though Bittner had devoted his life to wildlife, he apparently had placed his own financial interests ahead of the need to comply with federal permitting requirements.
After considering scientific concerns associated with placing multiple tracking devices on a single bird and the failure to send eagle carcasses to the National Eagle Repository as required, Bartick concluded that "it cannot be said that there was no harm in this case."
Bartick cited the fact that Bittner captured and banded birds without federal and state permits, placed unpermitted devices on birds, conducted aerial surveys after authorization was denied, used wild birds in educational programs without a permit, failed to immediately send eagle carcasses to the National Eagle Repository — where there is a lengthy waiting list for Native Americans to obtain plumage for religious ceremonies — and failed to provide to the government data he obtained about the wildlife.
According to court documents and admissions in his guilty plea, Bittner is the founder of a non-profit organization and makes his living by "banding"
birds and tracking their birds. He performs the services to assist companies with environmental impact statements needed for construction and maintenance of power lines and wind-power generators.
In order for a bird to be banded, it must be trapped, captured or taken out of its nest. Such activity is considered a "take" of wildlife and requires a permit under both the Migratory Bird Act and the Bald and Golden Eagle Protection Act.
Despite lacking a federal or state bird-banding permit, Bittner illegally trapped and marked 164 birds, including 37 eagles, between late January and mid-August of 2010, according to prosecutors. Of those birds, 144 were trapped in San Diego and Imperial counties.