This is an archived article and the information in the article may be outdated. Please look at the time stamp on the story to see when it was last updated.
CAMP PENDLETON, Calif. — A fire that scorched about 6,300 acres on the eastern outskirts of Camp Pendleton over the past couple days was about 15 percent contained Thursday night and another 4,000-acre fire that sparked on the other side of the sprawling installation Thursday was 0 percent contained.
The most recent blaze broke out about 3:15 p.m. near a sewage plant in the Las Pulgas area and prompted the evacuation of 309 personnel to the School of Infantry Parade deck behind the mess hall, the officials said. Another 62 Marines from Camp Margarita were evacuated to Camp Del Mar.
Las Flores Area of Marine Corps Base Camp Pendleton has been ordered Thursday night to evacuate to the I MEF parade deck in Camp Del Mar behind Devil Doc Hall, building 210825.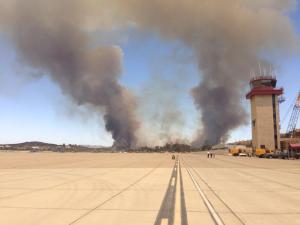 Base officials said the evacuations would remain in effect overnight.
The first and largest of the fires — the Tomahawk Fire — erupted for unknown reasons around 9:45 a.m. Wednesday at the Naval Weapons Station Fallbrook at the edge of Camp Pendleton, then spread onto the North County Marine Corps installation. The Fallbrook facility lost power and will be closed Friday.
Residents of the approximately 500 Fallbrook households on Olive Hill Road between South Mission and Burma roads received an evacuation message via phone, email or text message because the fire temporarily threatened to spread off base, according to sheriff's officials.
They were later allowed to return home, but were advised that Olive Hill and Burma roads remained closed at Sleeping Indian Road.
One Camp Pendleton firefighter was treated for heat exhaustion, but no other injuries had been reported.
Another fire broke out on Wednesday on the eastern side of Interstate 5, near Las Pulgas Road, about 15 minutes after the first, according to the California Highway Patrol.
The blaze, which was possibly caused by a fire that engulfed and gutted a box truck, blackened 30 acres and prompted a temporary closure of both sides of the freeway in the area.