This is an archived article and the information in the article may be outdated. Please look at the time stamp on the story to see when it was last updated.
JULIAN, Calif. — A fast-moving wildfire tore through mountainous terrain in eastern San Diego County Friday, damaging or destroying at least two structures and threatening hundreds of others as it moved toward the landmark former mining town of Julian.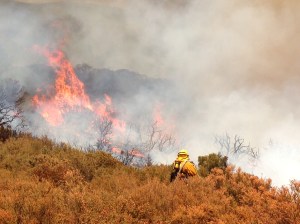 The blaze erupted for unknown reasons about 10:40 a.m. off state Route 78 in the rural Banner area, according to Cal Fire.
By about 4:30 p.m., the eastward-spreading flames had charred roughly 150 acres as crews battled them on the ground and aboard air tankers and water-dropping helicopters, Cal Fire Capt. Kendal Bortisser said. About 200 homes were no longer threatened, he said.
It was not immediately clear what type of structures were damaged or lost, though photos and helicopter video from the area indicated they were homes on Woodland Road.
Authorities cleared residents out of Kentwood-in-the-Pines and Whispering Pines and set up a temporary shelter for the displaced at Julian High School. In the early afternoon, the evacuation site was moved to Jess Martin County Park, 2955 State Route 79.
The California Highway Patrol temporarily shut down SR-78 between Wynola and San Felipe Road in the Scissors Crossing area as a public-safety measure.
By 2:30 p.m., crews had stopped the fire from spreading and were mopping up hot spots and cutting a fire line around the burn area with bulldozers.
Due to safety concerns related to road closures prompted by the fire, the annual Julian Fourth of July Parade was canceled, the California Highway Patrol announced in the early evening.