This is an archived article and the information in the article may be outdated. Please look at the time stamp on the story to see when it was last updated.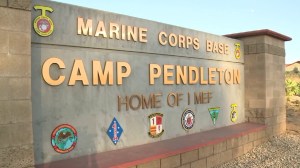 CAMP PENDLETON, Calif. – An evacuation order for some Camp Pendleton residents and personnel was lifted as military and civilian firefighters worked to contain three wildfires on the sprawling Marine Corps base that have blackened more than 22,000 acres.
School of Infantry West Marines were allowed to return to the area via the Basilone Road Gate off Interstate 5, and residents of the San Onofre housing area can return home using San Onofre gate and Basilone Road, authorities said.
Military officials said only essential personnel were required to report to work and evacuation orders remained in place for Camp San Mateo, near the base's northern edge; Camp Las Pulgas in the center; Marine Air Support Squadron 3 south of Las Pulgas; Camp Las Flores in the western center portion; and Camp Vado Del Rio northwest of Mainside.
Camp Vado Del Rio, Camp Margarita, Camp Las Flores and Marine Air Support Squadron 3 were without power, base officials said.
The latest blaze to break out at Camp Pendleton — dubbed the San Mateo Fire — began spreading just before 11:30 a.m. Friday near Basilone Road,
according to Cal Fire. By mid-morning today, it had grown to about 1,000 acres and was 25 percent contained, the state agency reported.
The fast-moving Las Pulgas Fire broke out about 3:15 p.m. Thursday near a sewage plant in the Las Pulgas area and has led to hundreds of evacuations.
It had grown to about 15,000 acres and was about 40 percent contained.
The third fire — known as the Tomahawk Fire — erupted on Naval Weapons Station Fallbrook at the eastern outskirts of Camp Pendleton about 9:45 a.m., Wednesday and later spread to the Marine base.
The Tomahawk Fire has blackened about 6,500 acres and was 75 percent contained this morning, according to military officials. The Fallbrook Navy
facility lost power and remains closed.
The Christianitos and Las Pulgas gates on Camp Pendleton also remains closed.