This is an archived article and the information in the article may be outdated. Please look at the time stamp on the story to see when it was last updated.
CHULA VISTA, Calif. – The wife of a San Diego police officer accused of misconduct spoke to Fox 5 Thursday about the allegations against him.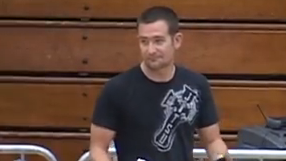 Multiple sources told Fox 5 the latest officer under investigation for sexual misconduct is Donald Moncrief, 39.
A woman arrested last year for auto theft told investigators Moncrief touched her inappropriately and exposed himself during her transport to Las Colinas jail.
Outside Moncrief's Chula Vista home Thursday afternoon his wife defended him.
"Come on, please. Who would throw their career away? Would you throw your career away for a criminal? Come on," she said.
In a profile posted on a website for the California Amateur Mixed Martial Arts Organization, Moncrief describes himself as a "defensive tactics instructor" for SDPD. He also wrote that he was a brown belt instructor in the Marine Corps Martial Arts and that he trained in Muay Thai and Jiu Jitsu.
According to a boxing website, Moncrief participated in the 2012 "SoCal Battle of the Badges" where he fought in honor of late San Diego Police Officer Jeremy Henwood. The website describes Moncrief as Henwood's "close friend."
A newsletter by the San Diego Police Officer's Association also identifies Moncrief as a member of the San Diego Police Department Honor Guard as of October 2011.
Chief William Lansdowne said he would not confirm the name of the officer under investigation unless charges are filed. Wednesday he said he believed the allegations against the officer were "credible."
Moncrief is a six-year veteran with the San Diego Police Department.