This is an archived article and the information in the article may be outdated. Please look at the time stamp on the story to see when it was last updated.
SAN DIEGO – A man who shot and killed a stranger as he was riding a bicycle in the East Village last year was sentenced to life in prison without the possibility of parole Friday.
Raphael Davis, 46, was convicted of shooting Duane Edward Wicker in the head near J and 15th streets at about 4 p.m. on March 28, 2015. The mortally wounded father of six was taken to UCSD Medical Center, where he died the following day.
Prosecutors said Davis did not know Wicker and did not offer a motive for the apparently random killing.
Prior to sentencing, Wicker's wife of more than 30 years gave an emotional impact statement. Angela Wicker said the violent loss of her husband devastated her, their six children and their eight grandchildren.
"The pain and suffering you have caused is likely beyond your understanding," said Wicker. "Duane was my security. He was all that I had to comfort me."
Wicker's sister and other family members echoed her comments.
"Who gave you the right to take our angel away from us? What did he do so wrong to you for you to take him?" cried Alvetta Price, sister of Duane Wicker.
The  judge told Davis that the crime was senseless and the time he had spent in prison for previous crimes had not straightened him out. The judge sentenced Davis to 33 years to life in prison without the possibility of parole.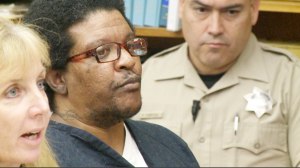 "The victim had no idea what was going on, he didn't even have a chance to defend himself. It was a cowardly act," said Judge Frederic Link.
Nona Fletcher, Davis' sister, said she hopes her brother will get the help he needs in prison, but she said he didn't belong there.
"For the rest of his life? No, because there was no intent, no malice. No intent whatsoever for this to happen," said Fletcher.
After the sentencing,  Fletcher approached Angela Wicker and personally apologized for the pain her brother had caused by killing Duane Wicker. Both women cried and Wicker gave Fletcher a copy of her impact statement to share with Davis' family.
"To let them know how I feel," said Angela. "What can you say when somebody is totally gone? He's not coming back."
Angela told FOX 5 that she and Duane had a bright future. She is pursuing a master's degree in psychology and the couple had planned to move to North Carolina. Now that future is only filled with questions of how to carry on.
"I'll never forget it. He took a part of me away when he took him, you know?  He took a part of me," said Angela.