This is an archived article and the information in the article may be outdated. Please look at the time stamp on the story to see when it was last updated.
OCEANSIDE, Calif. – An Oceanside man has been housebound after his wheelchair accessible van was stolen.
"It's an important van, it's fixed for me," said Mark Kern.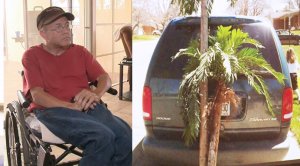 Kern moved to Oceanside about a year ago from Colorado for health reasons. A car crash in the 1980s left him a quadriplegic. He's come a long way since that day, thanks to his custom-made wheelchair equipped van.
"I just pop up underneath the steering wheel and drive - just go, it's real easy. I can get in and out of cars as quick as anybody else, almost," said Kern.
Sunday was the last time Kern saw his aqua-marine colored 2000 Grand Caravan.
"I was taking my dog out and noticed there was no van in the garage where it normally is," said Kern's stepson Kane French.
"The weird thing about it is there is no driver's seat, and of course there wasn't a key in there - not quite sure how they are driving it around," said Kern.
Kern has since filed a police report and contacted his insurance, but starting over wouldn't be easy.
"The lift and the hand control all the stuff that goes with it is the most expensive part and I don't have the funds to replace something like that," said Kern.
Having once been able to drive around town himself, Kern now feels like much more was taken from him than just his van.
"It sucks being stuck in the house. It restricts me to this 500 square feet instead of 500 square miles. If someone is driving it around a van that doesn't have a driver's seat that's not his it's mine," said Kern.
Police say at this time there are no suspects. They have all units keeping an eye out, but if you see the van call Oceanside Police Department.