This is an archived article and the information in the article may be outdated. Please look at the time stamp on the story to see when it was last updated.
SAN DIEGO – David Edwards, 36, is an Australian national and for the last decade the engineer has called San Diego home. The government shutdown could cause his address to change.
"What happens if I don't get the paperwork?" said Edwards. "What happens if they don't come to an agreement?"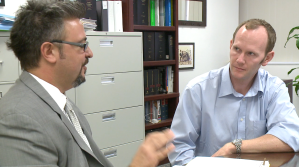 Edwards is legally living in the U.S. on an E-3, a professional working visa that can be extended every two years.
His next extension deadline is December 10 and he's concerned his paperwork isn't being processed due to the government shutdown and furloughs.
"I can't go online to produce part of their application that is necessary for the extension," said Harun Kazmi, Edwards' immigration lawyer. "[The Department of Labor's] office is slimmed down, you can't move forward."
With limited Department of Labor Services, professionals with working visas including H-1B, E-3, H-2B and some green cardholders can't access iCERT, or submit LCA or PERM forms to the U.S. Citizenship and Immigration Services.
If the renewed visas fail to get processed before their extension deadline, their status changes to "illegal."
"You have to start thinking and say, 'What do I have to pack? Do I have to move? Relocate?'" said Edwards.
Kazmi recommends people in Edwards' situation to temporarily leave the country until their paperwork is processed and re-granted "legal" status.
"The worst-case scenario is overstaying and hoping that something gets fixed, and once you stay, you're potentially setting yourself up for a bar from returning to the country after you leave," said Kazmi. "It's no good."
Kazmi said ironically, this makes the American government responsible for denying people from pursuing their American dreams.
Edwards and Kazmi are working on a game plan to keep him in the country for longer. They are hoping his green card application processes by next year.
"The best case scenario is the government reopens, my paperwork gets processed, get papers come back to the consulate, I get a new stamp on the passport and go back to work," said Edwards.