This is an archived article and the information in the article may be outdated. Please look at the time stamp on the story to see when it was last updated.
Mother's Day is this Sunday and it always gets me thinking.  One, I personally don't really need anything and two, motherhood is one intense ride.
I'm just one of those moms who don't think the day is a big deal and I'm happy just going for a bike ride with the kids.  I don't need to feel appreciated this day, I prefer just feeling loved the other 364.  That being said, I'm certainly not opposed to it and enjoy doing something nice with my family and for my own Mom.  I simply don't put a lot of emphasis on it.   Though I am a FIRM believer, "thank you" is a very important and powerful phrase.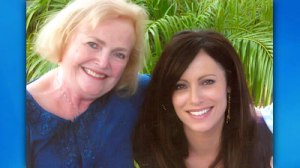 This year is bittersweet because my mom is both far away and not in good health.  I will do my best to send a ray of sunshine her way, but let's face it, hospitals might improve your body's health, but often not your mental health.  It's depressing.  The greatest gift she could bestow her four children this year is to get well and be mobile again.  I really hope I get my wish.
As for the rest of you mothers out there, and you know who you are, I recently connected with StyleYourLifeBlog local stylist Jennifer Rosson to find out the hottest Mother's Day gifts of 2014.  Turns out, her polling revealed what moms really want IS A BREAK.  A day void of laundry, dishes, day planners and responsibility.  Lucky for our families, that's pretty easy to wrap up, too.
You can spend a lot or a little to accomplish this mission.   Jennifer has some solid ideas for at home ideas and also discovered a "Dad Concierge" in town who can help any man in dire straits for gift ideas.  Be sure to watch our story …
Come Sunday, show your gratitude.  None of us would be here without our moms.
Also behave.  They brought us into this world.  They can take us out.  (Kids raised by Irish women, know this last fact very well.)
Happy Mother's Day…