This is an archived article and the information in the article may be outdated. Please look at the time stamp on the story to see when it was last updated.
SAN DIEGO — Authorities removed a dead fin whale Wednesday afternoon from the Point Loma beach where it washed up several days ago.
Lifeguards waited for the tide to come in late Wednesday afternoon before dragging the roughly 40-foot carcass from the rocky shoreline below Point Loma Wastewater Treatment Plant on Gatchell Road, where it turned up Monday morning, according to the San Diego Fire-Rescue Department.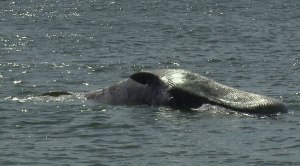 The lifeguards hauled the remains of the cetacean about a half- mile offshore, then turn it over to members of the Marine Conservation Science Institute, a Fallbrook-based nonprofit research agency, who towed it farther out into the ocean for disposal, SDFRD spokesman Lee Swanson said.
It was not immediately clear if the institute personnel would sink the carcass or leave it to float at sea, Swanson said.
The Fin whale weighs an estimated 50 tons. NOAA scientists are now going to tow the massive sea mammal several miles off shore and watch female great white sharks devour the massive beast.