This is an archived article and the information in the article may be outdated. Please look at the time stamp on the story to see when it was last updated.
SAN DIEGO – The San Ysidro border crossing will be closed to all southbound vehicle traffic this weekend as crews work on a new freeway approach to the port of entry.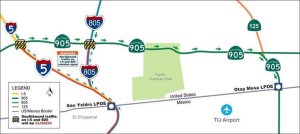 All southbound lanes of Interstate 5 and Interstate 805 south of state Route 905 will close at 3 a.m. on Saturday and remain closed until noon on Monday. During the 57-hour closure, vehicles heading to Mexico will be diverted on SR-905 to the Otay Mesa border crossing.
The closure is necessary so that construction crews can realign the I-5 freeway approach to the border. As part of that project, workers will disassemble a southbound vehicle-inspection canopy over I-5 at the border port. Additional road work and installation of underground utilities also will take place as part of around-the-clock operations during the closure.
Northbound travelers will still be able to cross from Mexico to San Diego at the San Ysidro crossing, and pedestrians can cross in both directions.
Traffic congestion and delays are expected all weekend on SR-905 and at the Otay Mesa Port of Entry, Caltrans said.
The lane-expansion project is estimated to cost $741 million and is expected to be completed in 2019.
More information about the I-5 realignment project is available at the General Services Administration website.