This is an archived article and the information in the article may be outdated. Please look at the time stamp on the story to see when it was last updated.
SAN DIEGO – An engaged couple said their Mission Hills home was ransacked Monday and all of the contents in their safe, including their wedding rings, were stolen.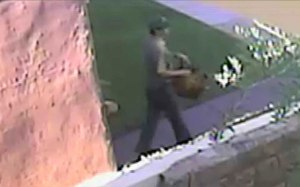 Wedding planning for Mike Peterson and his fiancé Laura Moncreiff had a major setback Monday afternoon when their wedding rings were taken from their house, which is for sale.
Peterson had returned to his home on Titus Street to find his garage door had been pried open.
"I noticed that the sliding glass door was opened which was a little bit weird," said Peterson.  "I walked in here, saw that all the drawers and dressers were pulled out and all of our stuff was on the floor."
When Peterson walked into his bedroom, he found his safe busted open and emptied of its contents, containing rings and other family heirloom jewelry pieces.
"I started crying," said Moncreiff, who was working when Peterson informed her.  "I was balling at work.  I couldn't work any longer.  I had to leave."
The engaged couple said since their home is on the market and several open houses have been held. The burglar could've compiled a hit list of their belongings and mapped out their property after being inside the home, they said.
Anyone with information about the incident was asked to call San Diego Police Department at 619-531-2000.