This is an archived article and the information in the article may be outdated. Please look at the time stamp on the story to see when it was last updated.
SAN DIEGO – A limousine bus transporting a wedding party caught fire Saturday in Old Town, San Diego fire officials said.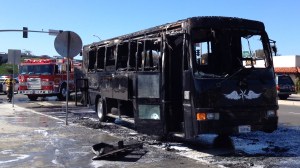 An electrical issue was believed to be the cause of the fire that started around 12:30 p.m. just uphill from Old Town, San Diego Fire Department dispatcher said.
As the wedding party escaped, the bride's dress was still hanging in the back of the bus.
"I was choking and ran back there and grabbed her dress," the driver said. "There was so much smoke in the back of the bus that I couldn't see a thing."
No one was reportedly injured.
Firefighters from Mission Hills and Morena ares extinguished the fire within 12 minutes, the dispatcher said.
Train and trolley service at the Old Town Station were not affected.