This is an archived article and the information in the article may be outdated. Please look at the time stamp on the story to see when it was last updated.
EL CAJON, Calif. – A new tool for community college students to see how much their degree is worth went online Wednesday.
The California Community College system came up with a website "Salary Surfer" to provide perspective students the ability to check the average income of graduates from the most popular campus programs.
Anyone can log on and search their area of interest and navigate to a specific program.
The s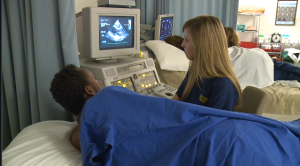 ite lists median annual salary two years before along with two and five years after graduation.
"It shows the tremendous return on investment of students when they enter these programs," California Community Colleges Chancellor Brice Harris said. "Students who complete an associate degree with one of our institutions practically double their income within two years after their graduation and they triple their income within the five years after they graduate."
Ashley Ensminger is in the echo cardio program at Grossmont College and eventually will be a cardiovascular technician.  She has a personal connection to her schoolwork.
"I actually had a niece that was born with cardiomyopathy, which is a heart disease and it got me very interested," Ensminger said.
Ensminger isn't doing it for the money, but like many students it is a big factor when going for a degree. With the new website, students can scan the web to see how much they'll make after they graduate.