This is an archived article and the information in the article may be outdated. Please look at the time stamp on the story to see when it was last updated.
SAN DIEGO – For those suspicious about ghosts or other supernatural activity in their home, a new website may give them some insight.
DiedinHouse.com let's homeowners dig deeper into their house's history and identifies who may have passed away on the property.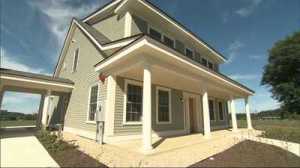 "You're not asking 'hey, did someone die in this house?' That doesn't happen until you're in the house and you hear a creek in the night," founder Roy Condrey said.
Condrey started the site after he found out someone had died in one of his South Carolina properties and it wasn't disclosed when he bought it.
Only three states have laws on the books that require sellers to disclose if there has been a death on the property. A death can dramatically lower property value, but the information can be hard to come by.
"It's easier said than done, because you have to find a good source and you have to find out everyone that's lived at that house," Condrey said.
For $11.99 you can get a summary of everyone associated with the property who died there and anyone else associated with the property who have been reported deceased.
The site uses a special algorithm to compile a more detailed report in 30 days.
"It's a tremendous amount (of research)," Condrey said. "It's like a home genealogy search."
Real estate broker Mike Chamberlin said the site could be helpful, but would encourage users to keep it in perspective.
"Take it for what it is and if you're interested take a look at it – it may have some information," Chamberlin said. "Generally, I think you're relator will have the information you need so I would rely more on them."
In California, agents have to disclose all safety risks, but they only have to disclose a death if it's within three years.
"If you know about it disclose it," Chamberlin said. "It doesn't really matter how far back you go because it's not generally going to kill a deal."