This is an archived article and the information in the article may be outdated. Please look at the time stamp on the story to see when it was last updated.
MIRAMAR, Calif. – A massive sinkhole opend up in front of the East Gate entrance to MCAS Miramar Sunday night.
It happened after a water main break was noticed Saturday morning.
The entrance to the base in both directions was completely blocked by the sinkhole.
"Marines, sailors and guests trying to get on or off base will use our West Gate," said a spokesperson for the base, adding, "which leads into Miramar road and the North Gate which is closer to the 15."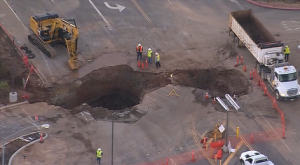 Traffic was diverted to the north gate entrance off Miramar Road.
This caused congestion and delays for those trying to get on the base and for people who have business in the area.
"It's ridiculous," said one women who had been waiting in line for more than 15 minutes to make a left onto the base.
A retired Air Force Captain, had to come back twice due to traffic. "I started to come out this morning to get a haircut and get to the exchange," said Capt. Peter Kramer, but he never made it, "I couldn't even go over the 15. So I turned around and went back home."
People trying to conduct business on base, just had to wait like everyone else.
"I've been waiting about 30 minutes now," explained a dry cleaning and laundry service driver, adding "I usually get on Miramar Way but this time Miramar road."
The broken water main has been located and is being repaired.
The next step is back-filling the hole and testing for safety.
California Highway Patrol is asking all motorist to avoid the areas near Interstate 15 and Miramar Road.
According to a spokesperson for MCAS, it could be a week before the East entrance is re-opened.