This is an archived article and the information in the article may be outdated. Please look at the time stamp on the story to see when it was last updated.
SAN DIEGO — Traffic on F Street between state Route 94 and Park Boulevard will be squeezed into one lane during business hours throughout the workweek as crews work to replace a 102-year-old water pipeline.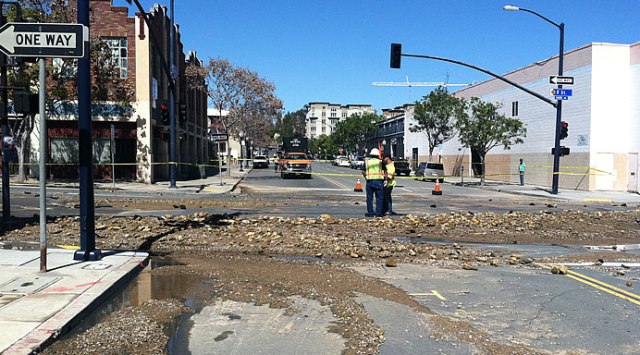 Crews planned to eventually replace 1,600 linear feet of pipe along F Street between 17th Street and Park Boulevard that has reached the end of its useful service life along with 20 water connections, according to city officials.
The 16-inch main burst at F and 10th streets last month, which caused flooding and property damage in the area.
Following that and another break in the area, city officials deemed replacing the pipe an emergency, according to Public Works Department spokesman Scott Robinson.
City crews began exploratory work on Friday, and excavation was scheduled to begin this week, he said. A completion date for the pipe replacement has yet to be determined, according to city officials.   Robinson said that area businesses and residences have been connected to temporary water lines to allow for the construction.
The closure of all but one lane of the one-way street is scheduled to start at 8:30 a.m. and extend to 5 p.m. Monday through Friday, according to city officials.