This is an archived article and the information in the article may be outdated. Please look at the time stamp on the story to see when it was last updated.
SAN DIEGO — Crews made final repairs and restored water service Monday to those residents affected by a water main break on Nimitz Boulevard in Point Loma.
Thousands of gallons of water rushed down streets and into homes after a 16 inch pipe ruptured early Sunday morning and created a huge sinkhole.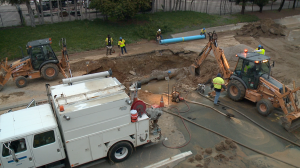 It's a story many San Diegans are becoming familiar with, as water main breaks seem to be coming one after another.
"We've got crumbling infrastructure that has been neglected for far too long ," said Councilman Mark Kersey, who chairs the council's newly-created Infrastructure Committee.
He says water main breaks and flooding are reminders of why infrastructure upgrades need to be a top priority for the city.
"The thing with infrastructure is you have to continually invest in it.  And if you don't, that maintenance becomes something you can't catch up on and eventually you just have to replace things rather than just maintain them and that's where we are today," said Kersey.
The break in Point Loma involved a cast iron pipe that was installed 70 years ago.  Back in December, a 61 year-old cast iron pipe burst in a Northpark neighborhood.
The city says it's trying to replace 25 to 30 miles of pipeline every year.
"We're hoping to have all the cast iron removed by 2017.  But it's a long, expensive process.  Right now, they're breaking faster than we can replace them," said Arian Collins with the San Diego Public Utilities Department.