This is an archived article and the information in the article may be outdated. Please look at the time stamp on the story to see when it was last updated.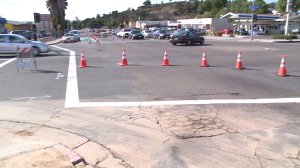 SAN DIEGO — A water main break left businesses surrounding a major Rolando-area intersection without working plumbing Tuesday and tied up traffic in the busy area.
The ruptured 12-inch-diameter concrete line began flooding the southeastern corner of College and University avenues about 9:30 a.m., according to the San Diego Water Department.
It took utility crews about an hour to halt the overflow, which caused no reported structural damage, SDWD spokesman Arian Collins said.
The infrastructure failure cut off water service to commercial buildings in the 6100 block of University Avenue and 4100 block of Cartagena Drive. Repairs were expected to take until at least 10 p.m. to complete, Collins said.
The city sent in a "water wagon" to serve the affected merchants pending restoration of service.
The mishap forced the closure of one lane each on College and University avenues.