This is an archived article and the information in the article may be outdated. Please look at the time stamp on the story to see when it was last updated.
EL CAJON, Calif. – Crews were working on a water main break that caused a road to collapse in El Cajon Thursday.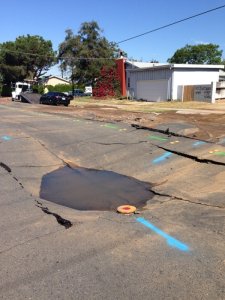 The water main break happened on Madison Avenue near Orlando Street, between Roselle and Wayne Avenues, between 1st and 2nd streets, just east of the Boys and Girls Club, according to city officials.
The break occurred at about 8 a.m. and damaged a large portion of the roadway on Madison Avenue. The road will remain closed until all the work is completed, which was estimated to be 9 p.m.
El Cajon city officials suggested motorists to use alternate routes including Broadway and East Main Street.
About 25 customers were without water, including the Boys and Girls Club.  Helix Water brought in a water truck to service customers without water.