This is an archived article and the information in the article may be outdated. Please look at the time stamp on the story to see when it was last updated.
SAN DIEGO — A 106-year-old water main ruptured underneath a busy Hillcrest thoroughfare Tuesday afternoon, flooding the street and adjacent businesses.
The failed cast-iron pipe began inundating the 3600 block of Fifth Avenue about 3 p.m. Witnesses reported that the roadway was soon beginning to cave in, creating a sinkhole.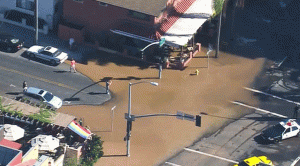 Police officers closed a stretch of the street and sections of nearby roads while utility crews were en route to halt the flooding.
Repair workers had the overflow under control by shortly after 4 p.m., said Arian Collins, a spokesman for the San Diego Water Department.
The mishap flooded some nearby commercial structures, forced the closure of two blocks of Fifth Avenue and left five blocks of the north-south boulevard without functional plumbing, according to Collins.
Full repairs to the 20-inch-diameter water main — installed in 1907 — and the roadway were expected to be complete sometime Wednesday afternoon, he said.