This is an archived article and the information in the article may be outdated. Please look at the time stamp on the story to see when it was last updated.
CARLSBAD, Calif. — It's a bird! It's a plane! It's Superman! Well, sort of.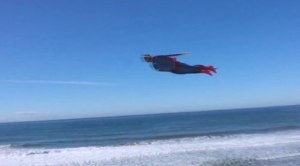 A custom-built, radio-controlled Superman zipped above the Pacific Coast Highway in Carlsbad.
Kyle Gough was cycling with a friend when he shot this cellphone video.