This is an archived article and the information in the article may be outdated. Please look at the time stamp on the story to see when it was last updated.
LA MESA, Calif. -- Three men -- two of whom were already behind bars -- now face murder, conspiracy and other charges stemming from a gang-related car-to-car shooting on Interstate 8 in La Mesa that killed a 22-year-old man three years ago.
Xusha Brown Jr., a member of the Sycuan Band of the Kumeyaay Nation, was shot in the head when someone inside a silver or light-gray sedan opened fire on the Nissan Maxima in which he was a passenger on eastbound Interstate 8 near state Route 125 in the early morning hours of May 5, 2013. A bullet struck him in the head and another hit the Nissan's driver in the arm.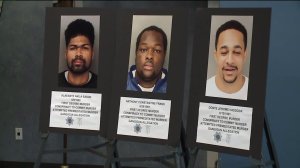 At a mid-morning briefing, San Diego County District Attorney Bonnie Dumanis and other law enforcement officials announced that Donte Jerome Haddock, 25, of San Diego, Alaeante Akila Eason, 26, of Humbolt and Anthony Constantine Frank, 25, were arrested Wednesday following a two-year multi-agency investigation.
All three face charges of murder, attempted premeditated murder and conspiracy to commit murder, with an allegation that the murder was carried out to benefit a criminal street gang.
Investigators believe the shooting stemmed from a gang feud between the suspects and the driver of the Nissan. Brown was not believed to have any such affiliations and was not the target of the gunfire.
"Mr. Brown, who was not a gang member, was an unintended victim of the gang feud," La Mesa police Chief Walt Vasquez said.
Haddock was arrested in Las Vegas and is awaiting extradition to San Diego, Dumanis said. Frank was re-arrested while serving a 20-year prison term for the murder of a rival gang member in El Cajon.
Eason is in local custody on suspicion of pandering and human trafficking of a minor, Dumanis said. He was set to be arraigned Monday, but his arraignment was continued until September 19th, 2016 when the other two suspects can also appear.
Sheriff Bill Gore, who also heads the East County Regional Gang Task Force, said search warrants were also served in Humboldt, Phoenix and Las Vegas during the investigation.
"It all culminated last Wednesday, the 20th of July with the service of 9 search warrants in 3 jurisdictions," said San Diego County Sheriff Bill Gore.
"They've been charged with conspiracy to commit murder, and attempted premeditated murder on the second surviving victim," said San Diego County District Attorney Bonnie Dumanis.
The victim's father says it is a tragedy all around. He had this to say about the arrests.
"I believe that things happen for a reason, and today is definitely helping myself and my family move forward in dealing with our closure and putting a lot of this behind us," said the father of the victim, Xusha Brown Sr.
Prosecutors believe this gang feud is also related to 2 other unsolved murders. One in 2011 and one in 2014.
Eason is concerned, in addition to murder charges, he is also facing charges of pandering and human trafficking of a minor.
 He faces 65 years to life for Brown's murder in addition to the other criminal charges he's facing.