This is an archived article and the information in the article may be outdated. Please look at the time stamp on the story to see when it was last updated.
SAN DIEGO –Navy Secretary Ray Mabus announced Tuesday at Camp Pendleton that a future warship will be named after Marine Corps World War II hero John Basilone, who already has a roadway named after him at the sprawling base in northern San Diego County.
"It is a great honor to name this ship in recognition of John Basilone," Mabus said. "I have no doubt that all who serve aboard her will carry on the legacy of service and commitment exemplified by this Marine Corps hero."
The Buffalo native earned the Medal of Honor for valor during fighting on the island of Guadalcanal, a battle that helped turn the tide of the war in the Pacific.
In October 1942, the gunnery sergeant and fellow Marines staved off numerous charges by Japanese troops aiming for Henderson Field, the primary objective of the two sides. By keeping control of the airfield, U.S. Marine and Navy airmen were able to choke off the flow of supplies to Japanese forces, who abandoned the island in early 1943.
Following a stateside tour to promote the sale of war bonds, Basilone returned to action in the Pacific and was killed in February 1945 on the island of Iwo Jima. He was awarded the Navy Cross posthumously, becoming the only enlisted Marine to win the two medals in World War II.
Basilone's cousin Constance Basilone-Imbese traveled all the way from New York and was in San Diego for the ceremony. She recalled his desire to serve.
"When he said he was going back, we had a funny feeling in the heart. 'Don't go back. Still do war bonds.' He said, 'I hate it. My mind is with my troops,'" his cousin said. "He went back, I never saw him again."
To Marines everywhere, especially at the 1st Marine Division Headquarters, Basilone is considered a hero, revered for his bravery and heroism in WWII.  Mabus said his name and heroism will live on with his destroyer the DDG 122.
"John Basilone, every Marine knows that name, but I think it's important for the next 30 or 40 years when the ship is going to be out there that generations of Marines to follow, generations of Americans to follow and people around the world to know that story," said Mabus.
The Arleigh Burke destroyer, the DDG 122 , is the second ship to be named after Basilone. The first was a Gearing Class Destroyer decommissioned in 1977.   DDG 122, expected to enter service in six years, will be the second destroyer named for Basilone. The first was decommissioned almost 40 years ago, according to the Navy.
The Basilone is the sixth destroyer that Mabus has named for a Medal of Honor recipient. Others honored longtime San Diego County resident John Finn, plus Ralph Johnson, Thomas Hudner, Sen. Daniel Inouye, D-Hawaii and Harvey C. Barnum Jr.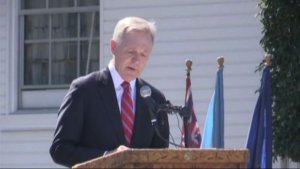 Mabus also named a vessel called an expeditionary sea base, being built in San Diego, for Woody Williams, who earned the nation's highest military award on Iwo Jima.
After the Camp Pendleton ceremony, Mabus left for San Francisco, where he will officially announce the naming of a Military Sealift Command oiler after gay rights activist Harvey Milk.
Milk, a Navy diving instructor in San Diego, went on to become the first openly gay public official in California in 1977 when he was elected to the San Francisco Board of Supervisors. Milk and then-San Francisco Mayor George Moscone were murdered by a fellow city official the following year.
San Diego Mayor Kevin Faulconer and LGBT community leader Nicole Murray- Ramirez attended the event on Treasure Island in San Francisco Bay.