This is an archived article and the information in the article may be outdated. Please look at the time stamp on the story to see when it was last updated.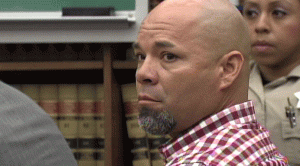 SAN DIEGO — A man accused of abandoning his 4-year-old son following a freeway crash near the Midway District, leaving the child bleeding on a roadside with injuries that proved fatal, failed to appear in court today for a trial-setting hearing, prompting a judge to issue a warrant for his arrest.
Angelo Fabiani, 40, also known as Angelo Fabiani Arroyo, is charged with child endangerment and hit-and-and-run with serious injury or death. He faces up to seven years in prison if convicted.
Fabiani — who's out of custody on $500,000 bail — did not show up today for his Superior Court arraignment. Judge Robert F. O'Neill issued a no- bail arrest warrant but agreed to hold it for a day, with the hope that the defendant would come to court tomorrow.
Before the no-show, attorneys had agreed to set Fabiani's trial for March 17.
Fabiani was on probation for a drunken driving conviction at the time of the June 2 crash on Interstate 5 near Rosecrans Street. His son, Valentino Fabiani Arroyo, was declared brain-dead at Rady Children's Hospital eight days later.
San Diego County Deputy Medical Examiner Jacquelyn Morhaine testified at a preliminary hearing last month that the child suffered a skull fracture and brain injuries during the crash and subsequent fall to the concrete below.
The boy was strapped in a child-safety seat in a 2004 Nissan Titan that veered off southbound Interstate 5 about 8 p.m. The truck, which was hauling a small water-craft trailer, careened down an ice plant-covered embankment, slammed into a palm tree, toppled onto its passenger side and came to rest perched atop a concrete retaining wall above Jefferson Street.
The defendant got out of the vehicle and tried in vain to pull out the child, according to witnesses. He then re-entered the damaged pickup and freed the youngster, but in doing so caused the child to fall about eight feet onto a concrete sidewalk below, according to prosecutors.
The defendant eluded capture for two days before being arrested in his hometown of Imperial Beach.